Moonlee Records predstavlja koncert:
ANALENA
(screamo post-punk, HR/SI)
HELLA COMET
(noise-rock/post-punk, AT)
Hrvaško-slovenska screamo/post-punk zasedba ANALENA letos praznuje 20-letnico delovanja. Spodobi se, da se častitljivo okroglo obletnico ustrezno proslavi - s koncertom! Slavnostno ozračje bo segreval avstrijski noise-rock/post-punk četverec HELLA COMET.
Klub Gromka, Ljubljana
petek, 15. september 2017
Vrata: 20:00, koncert: 20:30
Vstopnina: 8€
www.moonleerecords.com
www.klubgromka.org
-----------------------------------------------------------------------------------
ANALENA
Leta 1997 se v Zagrebu pojavi zasedba Analena, ki ima dvajset let kasneje status kultnega post-punk screamo benda. Čeprav je v tem obdobju izdala zgolj tri dolgometražne plošče 'Arhythmetics', 'Carbon Based' in 'Inconstantinopolis', je po drugi strani odigrala par stotin koncertov širom Evrope in si tako na terenu s svojo energično, strastno in brezkompromisno d.i.y. godbo ustvarila številčno in zvesto fanovsko bazo.
Glasbeno je Analenino ustvarjanje težko ujeti u kalup, zato naj nas ne zapeljejo zmedene skovanke novega časa, ki segajo od postpunka in indie power popa čez galaksijo hrupa do rocka in hardcora. At The Drive-In, Red Monkey, Life But How To Life It, Yaphet Kotto, Submission Hold, Hole, dEUS, Envy, Pretty Girls Makes Graves so le nekatere asociacije in primerjave, ki jih je (bila) deležna Analena. Ampak pustimo naštevanja. Prepustite se raje udarnemu vreščanjanju pevke Ane, ki ga ostri disciplinirano kitarsko rezanje, debeli že tako dobro podmazan bas, in ki ne pade iz fokusa natančnega, a več kot ponosnega bobnanja. Ne spreglejte niti plovbe po nekoliko bolj melodičnih napevih, niti lucidnih kitarskih prepletov in vragolij. Prepustite se udarnosti in atmosferičnosti, brezkompromisnosti in zasanjanosti, natančnosti in kaotičnosti, razigranosti in napetosti, temu zgoščenemu in uravnoteženemu prepletu.
Četudi je Analena v zadnjih letih zaradi razseljenosti med Zagrebom, Ljubljano in Veliko Britanijo močno reducirala koncertno in diskografsko aktivnost, je dvajsetletnica benda odlična priložnost, da bend ponovno obišče Ljubljano, kjer je nazadnje nastopila na Moonleejadi 2013. Člani Analene so namreč tudi ustanovitelji založbe Moonlee Records, katere prva izdaja je ravno album 'Carbon Based' (2004).
Analena bo svojo dvajsetletnico koncertno obeležila brez posebnih gostov in nepotrebne patetike - glavno besedo bo imela glasba, igrajo se samo stari hiti!
Povezave:
https://analena.bandcamp.com/
https://www.facebook.com/ANALENA-6993242949/
http://www.moonleerecords.com/artists/analena
Video:
Live in Exclamation Marks
Metaphorical approach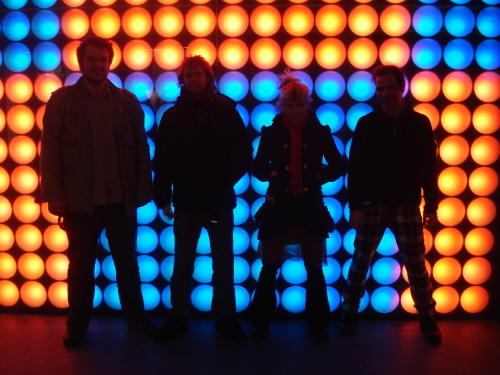 HELLA COMET
Avstrijska zasedba Hella Comet ima veliko podobnosti z Analeno – ženski vokal in bas, soroden glasbeni izraz, brezkompromisno raziskovanje hrupno-rockerskih pokrajin – zato se ponuja kot idealen izbor predskupine, ki bo ogrela praznično ozračje.
Graški četverec Hella Comet je do sedaj »objavil tri dolgometražne albume – Celebrate Your Loss (2010), Wild Honey (2013) in Locust Valley (2016) – in ščepec krajših izdaj ter sodeloval z drugimi zasedbami. Na odličnem zadnjem albumu Locust Valley (Noise Appeal) se je bend otresel vplivov postrocka in shoegazea ter se osredotočil na krajšo formo pesmi in strumno zakoračil v nove zvočne eksperimente. V pesmih se poigravajo s klasično formo udarnega postpunkovskega rocka, ki jo odevajo v abstraktne meglice hrupa, a obenem ohranjajo melodičnost in zapomljivost popa. Slišati je tudi navezave na psihedelijo in estetiko angažiranega feminističnega rocka v slogu Riot Grrrl. .« (Mario Batelič)
»Koncerti zasedbe Hella Comet so nabiti z energijo, obenem pa glasbeniki znotraj posamičnih skladb poskrbijo za krhke momente in zvočne eksperimente. Njihov izraz je nekje med čutnostjo in duhovnostjo, med klasično rockovsko pesmijo in zvočnem eksperimentiranju z le-to. Ne bojijo se vračanja k preprosti, bazični formi rockovskih komadov, a se pri izvedbi, ne meneč se za pričakovanja poslušalcev (ali pa samih glasbenikov!), močno naslanjajo na mogočne zvočne zidove. S takimi postopki dosegajo pretanjeno poigravanje s protislovnimi dvojicami oziroma različnimi skrajnostmi rockovske glasbe: večslojnost in jasnost, umirjenost in hrupnost, pop in punk, preprosta všečnost in drzna zvočna invencija.« (Mario Batelič)
Povezave:
http://hellacomet.mur.at/
https://www.facebook.com/HellaComet/
https://hellacomet.bandcamp.com
http://www.noiseappeal.com/artists/hella-comet/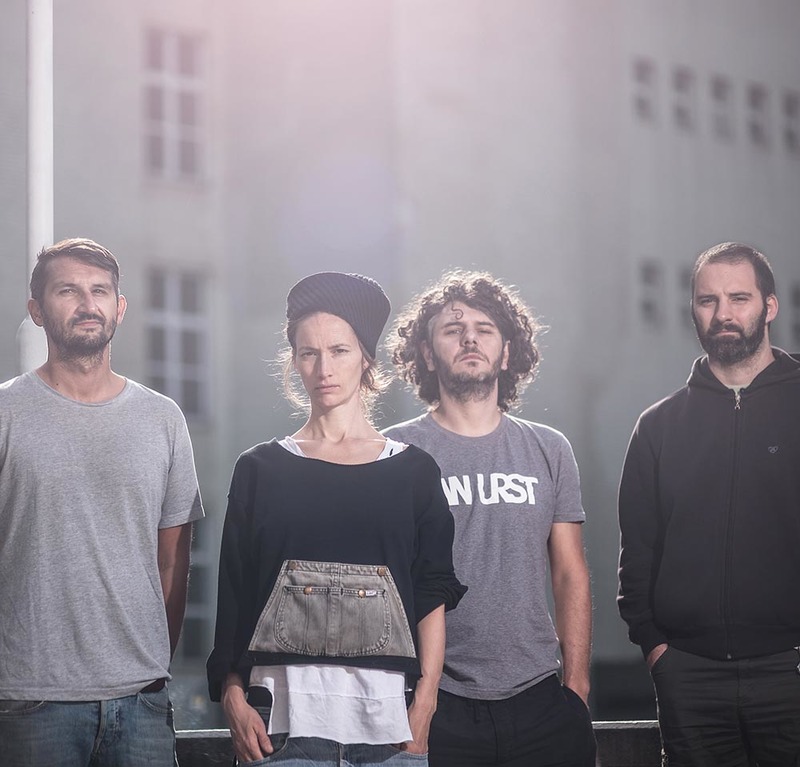 ---
Koncertni cikel Moonleenizacija podpira Mestna občina Ljubljana